I'm Cristian Edel Weiss, a data journalist and multimedia expert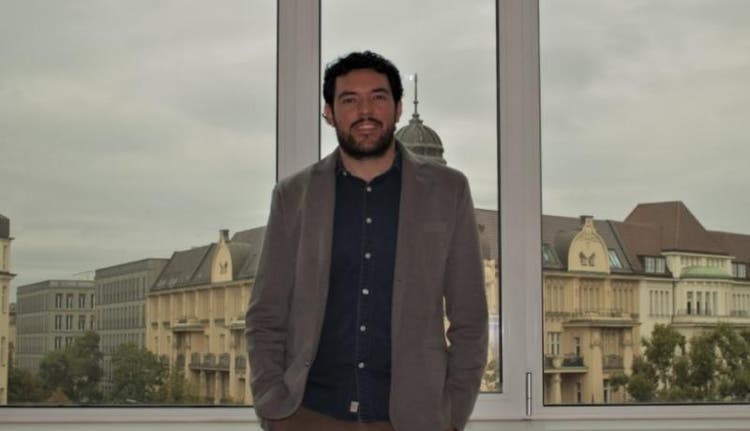 Welcome! I'm Cristian Edel Weiss, also known as Cristian Weiss, a data journalist from Santa Catarina (Brazil), based in Frankfurt area (Germany), who specializes in multimedia coverage and data journalism. As a professional journalist, I've published stories for Deutsche Welle (Germany), UOL, G1, Folha de S. Paulo, Terra and Zero Hora. I've also worked as a journalist for the RBS Group and NSC Comunicação, both in southern Brazil.
I've been data journalist, reporter, editor and editorialist at Diário Catarinense, in Florianópolis, and Jornal de Santa Catarina, in Blumenau. I also contributed to NSC TV (a Globo affiliate in Santa Catarina) and CBN and Globo radio stations.
I specialize in data journalism and multimedia reporting and have been awarded in Brazil and Latin America. I have worked in Santa Catarina and on international coverage as a correspondent in Germany. I also dedicate special attention to covering education.
Education
I am currently studying for a Master of Science (M.Sc.) in Technology and Society in Germany's Frankfurt region. I hold an MBA in Marketing and Communication. Furthermore, I also have a specialization in Audiovisual Business Management from the Media XXI Institute and the Nova University of Lisbon in Portugal.
Fellowships and training for data journalist
I am a member of the Brazilian Association of Investigative Journalism (Abraji) and the Brazilian Association of Education Journalists (Jeduca). I also have experience in the areas of the third sector, education, infrastructure, health, urban planning and the environment.
In 2019 and 2020, I joined the Dataship program at the Deutsche Welle Akademie in Germany, a one-year training series for data journalists in Europe. The program is aimed at training journalists from 16 countries under the mentorship of professionals from The Guardian (UK) and SRF (Switzerland).
In 2017, I was a fellow at the Lincoln Institute of Land Policy (USA), for journalists from Latin America who cover topics related to urban planning and the social impact of public policies.
Journalism awards
I have won several journalistic awards, including the Massey Ferguson Latin American Award (2016), two Awards from the Brazilian Psychiatry Association (2016 and 2017) and the Award from the National Association of Heads of Federal Higher Education Institutions in Brazil – Andifes (2018).
I have headed innovative multimedia and technological projects involving data journalism, such as the Vaccine Monitor and the Coronavirus Panel, for NSC Comunicação, pioneering initiatives in the Brazilian market for monitoring the Covid-19 pandemic.
Among other remarkable projects were the reportage movies (an initiative to tell the stories of ordinary people with the style and storytelling of cinema) Mar Além do Azul (The Sea Beyond Blue) and O Vendedor de Versos (The Verses Seller), as well as special digital productions, such as the Duplicoscópio app, developed for citizens to monitor step by step the duplication of the BR-470 highway in Santa Catarina.
From 2018 to 2021, I was part of the Comprova team, a coalition of 24 national media outlets to combat disinformation in the elections, and Prova Real, NSC Comunicação's fact-checking initiative. I was also in charge of the digital data analysis column Caixa de Dados (The Data Box), on the NSC Total portal.
Because of these experiences with the Freedom of Information Act and public data, I have been invited to speak on several occasions. These were invitations from the Comptroller General of the Union and the Comptroller General of the State of Santa Catarina.
---
See more about the profile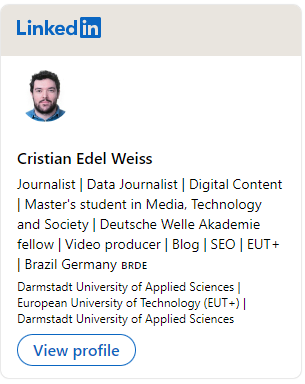 Further projects
---
Back to home | Awards | Portfolio | Latest
Summary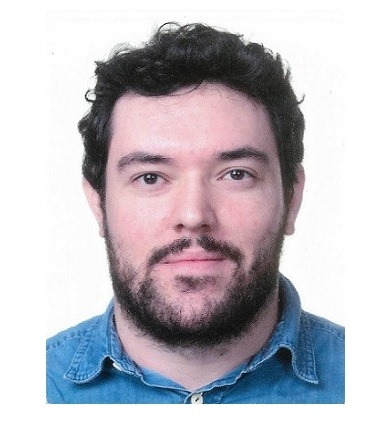 Cristian Edel Weiss
Cristian Weiss
www.cristianweiss.com
Journalist
NSC
RBS, NSC, G1, Deutsche Welle